Tälle sivulle on koottu suomalaiset podcastit. Lisäykset voi ilmoittaa lomakkeella.
---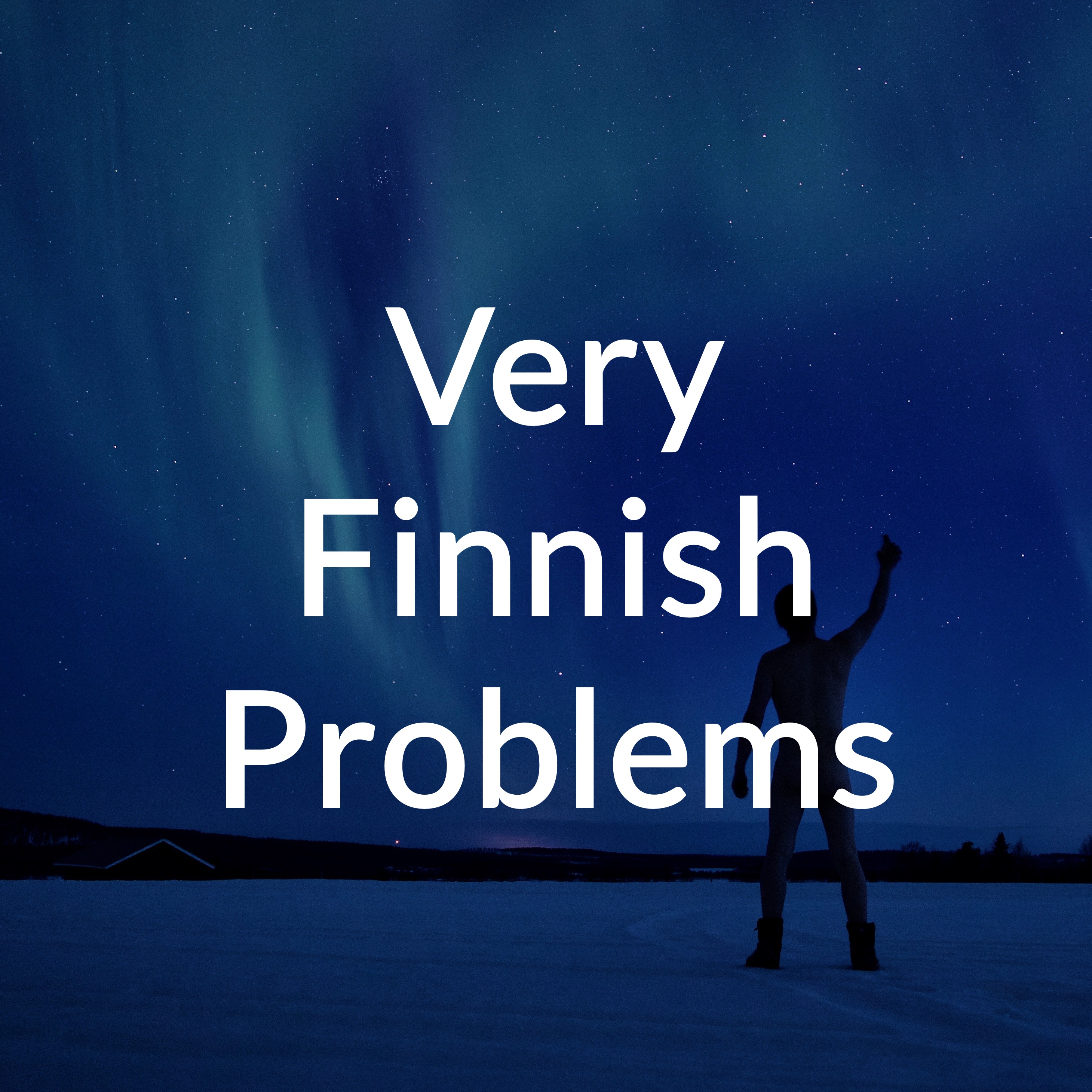 What's so weird and wonderful about Finland? British writer and Helsinki resident Joel Willans, the creator of Very Finnish Problems, and best-selling author of 101 Very Finnish Problems: The Foreigner's Guide to Surviving in Finland and More Very Finnish Problems: The even more essential guide, discusses, with a variety of fascinating guests, life in his much-loved, adopted country. Contact: veryfinnish[email protected] Produced by Thomas Nybergh / Ink Tank Media
Jaksot
Yhteensä 19 jaksoa, joista ensimmäinen julkaistu 26.4.2017.
Very Finnish Problems creator Joel Willans interviews the minds behind Midsummer Madness, a free Helsinki open-air Midsummer event for 2020. Jeroen Sebrechts and Claire Delhom discuss their personal journeys to Finland from Belgium and France respectively, and explain why Midsummer Madness is a licensed Moomin event, despite featuring zero trolls or Hattifatteners. Co-host Laura Suihkonen shares a very bleak movie recommendation. Contact: [email protected] Produced by Thomas Nybergh / Ink Tank Media Shownotes: Midsummer Madness Open Air Festival (Jun 19-20 2020): https://midsummermadness.fi/en/ The Finnish Sauna Association's Primer on sauna culture: https://www.sauna.fi/in-english/finnish-sauna-culture/ Laura's recommendation: The Joker (2019): https://www.rottentomatoes.com/m/joker_2019 Jeroen's recommendation - go check out Hungarian movies: https://hungarytoday.hu/thursday-top-ten-movie-time-best-hungarian-movies-53259/ Joel's recommendation - The Guardian Weekly's journalism: https://www.theguardian.com/weekly Claire's recommendation - "The Moomins, The World of Moominvalley" by Philip Ardagh and Frank Cottrell Boyce: https://www.goodreads.com/book/show/36473933-the-moomins
In this episode, Joel Willans, author of the Very Finnish Problems books, discusses journalist Erika Benke's amazing journey from communist Hungary to the BBC World Service and her recent stories on Finland. Topics include stories on how the climate crisis is tackled northern Finland, and the country's recent limited trials of Universal Basic Income. Co-host Joe Konderla and Erika present their recent experiences of how London has been utterly ruined by overcrowding. Contact: [email protected] Produced by Thomas Nybergh / Ink Tank Media Shownotes: Episode 12 of our show features in-depth discussion with a Finnish wilderness explorer: https://inktank.fi/vfp-ep-12-northern-light-joonas-linkola/ Erika's summary of the Finnish Universal Basic Income trials: https://www.youtube.com/watch?v=9nPQM54oPMg The town of Ii: https://en.wikipedia.org/wiki/Ii,_Finland Joel's recommendation - Very Brexit Problems merchandise: https://verybrexitproblems.com/ Erika's recommendation - Death in Ice Valley, the BBC's and NRK's true crime podcast on a mysterious, potentially espionage related death in Bergen, Norway: https://www.bbc.co.uk/programmes/p060ms2h Joe's recommendation - his own blog on life in Finland: http://www.thefinniot.com
Joel Willans, author of the Very Finnish Problems books, learns how the polluting textile industry is facing much-needed renewal thanks to Finnish innovation. Emmi Berlin from Jyväskylä based wood pulp fiber/textile startup Spinnova brings us unsettling details on the dead ends of fast fashion, while providing an alternative that just might keep us clothed for decades to come. Co-host Joe Konderla points out teachable moments in a UK program which caused the scrapping of perfectly usable Ford Escorts. Contact: [email protected] Produced by Thomas Nybergh / Ink Tank Media Shownotes: Joel's latest book - More Very Finnish Problems: https://www.gummerus.fi/fi/kirja/9789512407507/101-very-finnish-problems/ Spinnova's technology: https://spinnova.com/our-method/technology/ Episode 6 of our podcast features more musings on the textile industry and fast fashion: https://inktank.fi/very-finnish-problems-episode-6-rinna-saramaki-ethics-clothing-industry/ UK Vehicle scrappage scheme wasted perfectly good cars: https://en.wikipedia.org/wiki/Vehicle_scrappage_scheme Emmi's recommendation - Stacey Dooley's documentary on fast fashion: https://www.timetimer.com/ Joe's recommendation - Facebook Marketplace for secondhand-oriented shopping: https://www.facebook.com/marketplace/ Vaaterekki - Helsinki-based clothes lending service: https://www.vaaterekki.com/
Very Finnish Problems creator Joel Willans chats with Joe Konderla, writer at the Finniot, a blog on adjusting to Finnish quirks. Topics include British imperialism in Wales, Helsinki versus Tampere and overdosing on Moomins. Co-host Thomas Nybergh advises against home ownership and suggests learning Swedish to fast-track Finnish citizenship. Contact: [email protected] Produced by Thomas Nybergh / Ink Tank Media Shownotes: Joe's blog: http://www.thefinniot.com/ Joel's new book - More Very Finnish Problems: https://www.gummerus.fi/fi/kirja/9789512407507/101-very-finnish-problems/ The City of Tampere: https://www.tampere.fi/en/index.html Integrate in Finland through learning Swedish, an official language in Finland: https://integration.luckan.fi/integrating-in-swedish/ The Finnish constitution, see Section 17 – Right to one's language and culture: https://oikeusministerio.fi/en/constitution-of-finland English is now an official language in Espoo, a Helsinki suburb: https://yle.fi/uutiset/osasto/news/espoo_plans_english-language_education_from_kindergarten_to_doctorate_in_two_years/9837902 FAQ on Helsinki metro expansion, look for section on platform length: https://web.archive.org/web/20171224033638/https://www.lansimetro.fi/en/information-on-the-project/faq/ Joe's recommendation - Time Timer, a productivity tracking app that helps keep focus with visual cues: https://www.timetimer.com Joel's recommendation - Alita Battle Angel (trailer): https://www.youtube.com/watch?v=w7pYhpJaJW8 Thomas' podcast recommendation - It Could Happen Here, war journalist explains the second American Civil War: https://www.itcouldhappenherepod.com Thomas' recommendation, Chernobyl', the TV series, which is excellent, but scientifically inaccurate: https://www.youtube.com/watch?v=s9APLXM9Ei8 Moldovan-American journalist on Chernobyl Exiled Russian journalist Masha Gessen on what 'Chernobyl' gets right and wrong: https://www.newyorker.com/news/our-columnists/what-hbos-chernobyl-got-right-and-what-it-got-terribly-wrong Thomas' Finnish music pick: "Waterfalls", a song from LCMDF's, fun, catchy sophomore album Sad Bangers (Spotify, Apple Music) Spotify: https://open.spotify.com/track/6RNwbzHDMOcaWHyv8285L5 Apple Music: https://music.apple.com/fi/album/sad-bangers/1416634075
Joel Willans, captain of Very Finnish Problems, investigates the extraordinary hot beverage habits of his adopted country. Lari Salomaa, from Swedish artisanal coffee and tea brewery Johan & Nyström, joins to spill the beans on the nuances of Nordic caffeine madness, with the help of his book on the subject. Co-host Thomas Nybergh breaks his dystopian entertainment cycle with recommendations of a classic Finnish pop album and an actually uplifting podcast. Contact: [email protected] Produced by Thomas Nybergh / Ink Tank Media Shownotes: Lari Salomaa's book on changes in the coffee industry (in Finnish, for now): https://like.fi/kirjat/kahvivallankumous/ Joel's new book - More Very Finnish Problems: https://www.gummerus.fi/fi/kirja/9789512407507/101-very-finnish-problems/ Differences between coffee strains from around the world: https://driftaway.coffee/coffee-from-around-the-world/ Thatcher the Milk Snatcher's effect on British schools: https://www.theguardian.com/education/2013/apr/15/margaret-thatcher-education-legacy-gove Lari's podcast recommendation - Cappuzine, on coffee (in Finnish): https://soundcloud.com/cappuzine The impact of Marcos Croce and family on the coffee industry: https://www.theguardian.com/education/2013/apr/15/margaret-thatcher-education-legacy-gove Joel's recommendation: The European Parliament on Facebook: https://www.facebook.com/europeanparliament/ Joel's second recommendation: vote in the European election. Really: https://europa.eu/european-union/about-eu/european-elections_en Thomas' podcast recommendation - Nocturne, stories exploring modern life's relation to the night, with the most soothing narration ever: https://nocturnepodcast.org/the-blue-time/ Thomas' Finnish music pick: "Lähtisitkö", a classic song from Pave Maijanen's exquisite, glossy-sounding 1984 album Maijanen Spotify: https://open.spotify.com/track/6RNwbzHDMOcaWHyv8285L5 Apple Music: https://itunes.apple.com/fi/album/l%C3%A4htisitk%C3%B6/713756755?i=713756816 About Pave Maijanen: https://en.wikipedia.org/wiki/Pave_Maijanen
Creator of Very Finnish Problems Joel Willans returns with a conversation on how and why Finland is big in Japan with project manager, exports specialist Sami Häikiö. We learn about the strides being made to bring Moomin to the world and the peculiarities of booking metal gigs in Tokyo. Co-host Thomas Nybergh deals with troublesome Nipponese electronics and contributes the bleakest recommendation segment yet. Contact: [email protected] Produced by Thomas Nybergh / Ink Tank Media Shownotes: Joel's new book: More Very Finnish Problems: https://www.gummerus.fi/fi/kirja/9789512407507/101-very-finnish-problems/ Are Finland and Japan obsessed with each other?: https://theculturetrip.com/europe/finland/articles/are-finland-and-japan-obsessed-with-each-other/ On Japan's love of fax machines (New York Times, 2013): https://www.nytimes.com/2013/02/14/world/asia/in-japan-the-fax-machine-is-anything-but-a-relic.html It's 2016 And I'm Buying A New Japanese Fax Machine: https://kotaku.com/its-2016-and-im-buying-a-new-japanese-fax-machine-1785288793 An overview of new Finnish rock and metal: https://musicfinland.com/playlists/new-rock-and-metal-from-finland What you should know about the Japanese music market (2015): https://mxd.dk/arkiv/what-you-should-know-about-the-japanese-music-market-in-depth/ The Guardian reviews 'Who Will Comfort Toffle?', a delightful moomin picture book: https://www.theguardian.com/books/2003/nov/01/featuresreviews.guardianreview30 Kirkus review of Moominpappa at Sea, the most grown-up novel in the Moomin canon: https://www.kirkusreviews.com/book-reviews/tove-jansson-2/moominpappa-at-sea/ About the Fermi Paradox, the possibility that the universe is surprisingly devoid of (intelligent) life: https://www.youtube.com/watch?v=sNhhvQGsMEc Thomas' podcast recommendation, The End of the World With Josh Clark: https://www.theendwithjosh.com/ Thomas' 2nd recommendation: Kidding, superbly written dark comedy drama series starring Jim Carrey, Catherine Keener and many others: https://www.youtube.com/watch?v=jS6Gt76e_NA Joel's recommendation, Kitchen Nightmares: https://www.youtube.com/user/KitchenNightmares Sami's recommendation, Sons of Anarchy: https://en.wikipedia.org/wiki/Sons_of_Anarchy Sami's second recommendation, Japan Times, excellent news reporting in English: https://www.japantimes.co.jp/ Sami's old band, Karkkiautomaatti on Spotify: https://open.spotify.com/artist/2HbjhoqYElSXZsak99LAkR Sami's old band, Karkkiautomaaatti on Apple Music: https://itunes.apple.com/fi/artist/karkkiautomaatti/265592886
This time, Very Finnish Problems creator Joel Willans is joined by Joanna Nylund, author of Sisu: The Finnish Art of Courage, to discuss, as the book title suggests, Finnish resilience. Is sisu somehow a Finnish cultural trait or do Finns mostly benefit from briefly defining a necessary universal way to stay sane while facing hardship? Co-host Thomas Nybergh returns to blame Joel for British imperialism and remains skeptical about how close to nature Finns really are. Contact: [email protected] Produced by Thomas Nybergh / Ink Tank Media Shownotes: Joel's new book - More Very Finnish Problems: https://www.gummerus.fi/fi/kirja/9789512407507/101-very-finnish-problems/ Sisu explained: https://finland.fi/arts-culture/sisu-within-finnish-key-life-love-success/ Get Joanna's book Sisu in Finnish: https://www.readme.fi/kirja/sisu/ Get Joanna's book Sisu in English: https://www.octopusbooks.co.uk/books/detail.page?isbn=9781856753807 The Finnish Famine 1866-68: https://en.wikipedia.org/wiki/Finnish_famine_of_1866–68 National romanticism: https://en.wikipedia.org/wiki/Romantic_nationalism How to Win Friends and Influence People: https://en.wikipedia.org/wiki/How_to_Win_Friends_and_Influence_People American center-right politician Barack Obama touring the Nordics yanksplaining social democracy to business leaders: https://www.forbes.com/sites/oliversmith/2018/10/01/european-business-leaders-spent-500000-on-photos-with-obama/#7324362d6235 The End of History: https://en.wikipedia.org/wiki/End_of_history Joel's appearance on Finnish Public Broadcaster Yle's podcast All Points North: https://yle.fi/uutiset/osasto/news/all_points_north_podcast_7_breaking_down_brexit_with_susanna_turunen_and_joel_willans/10129196 Joanna's book recommendation - Factfulness by Hans Rosling, on how the world has gotten better without the West noticing: https://www.theguardian.com/world/commentisfree/2018/apr/11/good-news-at-last-the-world-isnt-as-horrific-as-you-think Bill Gates on Hans Rosling: https://www.youtube.com/watch?v=5uooRe07mYM Hans Rosling interviewed on British TV: https://www.youtube.com/watch?v=1vr6Q77lUHE Thomas' podcast recommendation - Behind the Bastards, an informative, funny weekly rant on some of the worst people in history: https://www.behindthebastards.com/ Joel's recommendation: Classical Trancelations, unforgettable electronic music reinterpreted by classical orchestra at Helsinki Arena (streamable worldwide): https://areena.yle.fi/1-50007533?seek=6671
What's it like to spend most of your time living in the Finnish wilderness? Joel Willans, author and creator of Very Finnish Problems discusses the beauty of Northern nature with explorer and Instagram personality Joonas Linkola. What about extreme heat versus the absurd cold? Co-host Thomas Nybergh wants cell reception in the wilderness and ensures the show ends with reading and listening recommendations. Contact: [email protected] Produced by Thomas Nybergh / Ink Tank Media Shownotes: Joel's book, 101 Very Finnish Problems: https://www.gummerus.fi/fi/kirja/9789512407507/101-very-finnish-problems/ Joonas Linkola on Instagram: https://www.instagram.com/joonaslinkola/ This is what a no-deal Brexit looks like: http://www.politics.co.uk/blogs/2018/07/27/this-is-what-no-deal-brexit-actually-looks-like The Iraqi (not Irianian!) who saved Norway from Oil: https://www.ft.com/content/99680a04-92a0-11de-b63b-00144feabdc0 Search for the above oil article and click on article via Google to skip paywall: https://www.google.com/search?q=site%3Aft.com+The+Iraqi+who+saved+Norway+from+oil+Farouk+al-Kasim Joonas' book recommendation, "The Subtle Art of Not Giving a Fuck" by Mark Manson: https://independentaustralia.net/life/life-display/review-the-subtle-art-of-not-giving-a-fck,10679 Joel's book recommendation, "The Men Who Stare at Goats" by Jon Ronson: https://www.theguardian.com/theobserver/2004/nov/21/politics Thomas' podcast recommendation, My Indian Life, young Indian adults in the 21st century explored by Bollywood actor Kalki Koechlin: https://www.bbc.co.uk/programmes/p06dwm6y
What's different about femininity in Finland? Joel Willans, author and creator of Very Finnish Problems consults lifestyle and travel blogger Varpu Pöyry, of Her Finland. We learn about the perils of gender stereotypes and Varpu's engineering approach to improving her memory. Co-host Thomas Nybergh is mostly concerned about the social lives of Finnish men. A special guest, Yle News journalist Ronan Browne, also appears briefly while shooting a story about Very Finnish Problems. Contact: [email protected] Produced by Thomas Nybergh / Ink Tank Media Shownotes: Yle News' story on Very Finnish Problems: https://yle.fi/uutiset/osasto/news/self-deprecating_finnish_memes_a_big_online_hit/10120020 The circumstances surrounding Finland's first female prime minister's resignation: https://en.wikipedia.org/wiki/Iraq_leak Joel's book - 101 Very Finnish Problems: https://www.gummerus.fi/fi/kirja/9789512407507/101-very-finnish-problems/ Yle News - Finland ranks sixth in English skills, early instruction crucial: https://yle.fi/uutiset/osasto/news/finland_ranks_sixth_in_english_skills_early_instruction_crucial/10071036 Varpus' book recommendation - "How to Learn Almost Anything in 48 Hours: Shortcuts and brain hacks for learning new skills fast" by Tansel Ali: https://www.goodreads.com/book/show/26242226-how-to-learn-almost-anything-in-48-hours Joel's book recommendation - "A Little Life" by Hanya Yanagihara: https://www.goodreads.com/book/show/22822858-a-little-life Thomas' podcast recommendation - The Assasination, an investigation into the death of Pakistan's first female prime minister, Benazir Bhutto: http://www.bbc.co.uk/programmes/p05r6cgx/episodes/downloads Check out Varpu's Finnish words and memory tricks on Instagram: https://www.instagram.com/p/BekdQqHnuUZ/
Why do Finns stand in line for free buckets? Joel Willans, creator of the Very Finnish Problems social media sensation, chats with Jyrki Kallinen, co-founder of crowdsourced market research service Crowst. We learn the tricks of the trade of getting reliable and comprehensive questionnaire answers from shy people. Co-host Thomas Nybergh wants to pair artificial intelligence with his Facebook rants and makes sure Jyrki recommends some metal music. Contact: [email protected] Produced by Thomas Nybergh / Ink Tank Media Shownotes: Joel's book - 101 Very Finnish Problems: https://www.gummerus.fi/fi/kirja/9789512407507/101-very-finnish-problems/ Jyrki Kallinen on LinkedIn: https://www.linkedin.com/in/jyrkikallinen/ Earn free goodies by answering surveys in Crowst's app (currently Finland only): https://www.crowst.com/en/crowsters-en/ The EU's General Data Protection Regulation: https://www.miradore.com/blog/gdpr-check-list-part-1/ How Nokia helps despots spy on and oppress people: http://voima.fi/artikkeli/2011/nokia-connects-now-in-iran/2893/ Thomas' book recommendation: On Writing by Stephen King: https://www.goodreads.com/book/show/10569.On_Writing Thomas' podcast recommendation - Twenty Thousand Hertz, the stories behind the world's most recognizable and interesting sounds: https://www.20k.org/ Joel's podcast recommendation - Remainiacs, a hilarious weekly take on the Brexit dumpster fire: http://www.remainiacs.com Jyrki's recommendation - the hauntingly beautiful metal album Winter's Gate by Insomnium: http://www.metalinjection.net/reviews/insomnium-winters-gate Listen to Winter's Gate on Spotify: https://open.spotify.com/album/1lCmbNOMbDw1QeFzWGWLbR?si=7HpnXJXhTUWl9-oHyIBgXw
What makes a chatty Brit prefer Finnish silence? In this special episode, renowned Finnish comedian André Wickström interviews Joel Willans, author of 101 Very Finnish Problems, in front of a live audience at the Helsinki Book Fair. We learn about the backstory of Very Finnish Problems, how Joel ended up in Finland and much more. In a bonus segment, co-host and producer Thomas Nybergh reveals his future plans for the show. Contact: [email protected] Produced by Thomas Nybergh / Ink Tank Media Shownotes: Hat tip to Sakari Heiskanen of Gummerus Publishers for recording the interview: https://twitter.com/heiskan Joel's book - 101 Very Finnish Problems: https://www.gummerus.fi/fi/kirja/9789512407507/101-very-finnish-problems/ André Wickström on Twitter: https://twitter.com/andrewickstroem Joel's book recommendation - Chasing the Scream (on the so-called War on Drugs): http://chasingthescream.com Thomas' podcast recommendation - Haven's Gate, in-depth documentary on the suicide cult of the same name: https://www.heavensgate.show Thomas' podcast recommendation - Cults, documentary series on religious cults: https://www.parcast.com/cults/ Joel's podcast app recommendation - Apple Podcasts (included on all Apple mobiles): https://itunes.apple.com/app/podcasts/id525463029?mt=8 Thomas' favorite podcast app (iOS) - Overcast: https://itunes.apple.com/app/overcast/id888422857?mt=8 Thomas' podcast app recommendation (iOS & Android) - CastBox: https://castbox.fm
Are electric vehicles taking off in Finland? Joel Willans, author of the best-selling book 101 Very Finnish Problems, is joined by Antti Korpelainen of Virta, a car charging services company. Topics include battery technology, long drives to Lapland and more. Co-host Thomas Nybergh is annoyed by misguided bio fuel subsidies and wants the current Finnish government to shove it. Contact: [email protected] Produced by Thomas Nybergh / Ink Tank Media Shownotes: Thomas' article on Finnish electric car adoption, anti-electric lobbyists and harmful subsidies: http://inktank.fi/electric-car-adoption-finland-problems/ How Norway's government made electric gars irresistible: https://www.pbs.org/newshour/show/norways-government-made-electric-cars-irresistible Electric cars in China: https://www.reuters.com/article/us-byd-autos/byd-predicts-ambitious-china-shift-to-electric-cars-by-2030-idUSKCN1BW0BQ Developments in battery technology and cost: https://www.nytimes.com/2017/07/08/climate/electric-cars-batteries.html Electric car crash safety: https://www.huffingtonpost.com/2013/09/13/electric-vehicles-safety_n_3922629.html
Let's talk ski jumping toddlers. Joel Willans, author of the best-selling book 101 Very Finnish Problems, discusses winter sports and other outdoorsy stuff with former semi-professional ski jumper Jussa Lauhamaa. Co-host Thomas Nybergh is curious about Jussa's job involving the Sports Tracker app and wearable tech for active lifestyles. Contact: [email protected] Produced by Thomas Nybergh / Ink Tank Media Shownotes: Jussa being sporty on Sports Tracker: https://www.sports-tracker.com/view_profile/jussalauhamaa Jussa on Instagram: https://www.instagram.com/jussalauhamaa/ Jussa's home town of Rovaniemi: https://en.wikipedia.org/wiki/Rovaniemi Ski jumps as part of the Lahti cityscape: https://www.flickr.com/photos/gsymoo/1617195591/ Ski jumping: https://en.wikipedia.org/wiki/Ski_jumping Finnish sporting goods conglomerate Amer Sports: https://en.wikipedia.org/wiki/Amer_Sports Brought to you by Carl's Jr.: http://www.urbandictionary.com/define.php?term=Brought%20to%20you%20by%20Carl%27s%20Jr. Why Thomas prefers iPhones despite them being crap in the cold: https://www.miradore.com/blog/the-state-of-android-software-updates-2017/ Thomas' recommendation - "Homecoming", a stellar dystopian sci-fi drama in podcast form: https://gimletmedia.com/homecoming/ The Guardian's review of "Homecoming": https://www.theguardian.com/tv-and-radio/2016/nov/24/homecoming-podcast-catherine-keener-david-schwimmer
Joel Willans, creator of Very Finnish Problems and author of the best-selling book 101 Very Finnish Problems, chats with clothing industry activist and sci-fi writer Rinna Saramäki about the evils of the clothing industry. Thomas Nybergh, co-host and producer of the show, is skeptical about ethical consumerism and likes his sci-fi bleak and dystopian. Contact: [email protected] Produced by Thomas Nybergh / Ink Tank Media Shownotes: Rinna's blog (in Finnish): https://rinnasaramaki.wordpress.com Rinna's books (in Finnish): https://atena.fi/kirjailijat/rinna-saramaki Why ethical consumerism isn't enough: http://highline.huffingtonpost.com/articles/en/the-myth-of-the-ethical-shopper/ Rinna's book pick - Emmi Itäranta's critically acclaimed "Memory of Water" (Teemestarin kirja): https://en.wikipedia.org/wiki/Memory_of_Water Joel's book pick - "The Day of the Triffids" by John Wyndham: https://en.wikipedia.org/wiki/The_Day_of_the_Triffids Rinna didn't like the movie adaptation of "Valérian and Laureline": https://www.theverge.com/2017/7/20/15999808/valerian-and-the-city-of-a-thousand-planets-review-luc-besson The meaning of "Jumping the Shark": http://tvtropes.org/pmwiki/pmwiki.php/Main/JumpingTheShark New York Times' Review of Thomas' dystopian book pick, P.C. Jersild's "After the flood". Jersild's "A Living Soul" is also awesome: http://www.nytimes.com/1986/01/05/books/in-short-fiction-187486.html Joel's book pick - "Z for Zachariah" by Robert C. O'Brien: https://en.wikipedia.org/wiki/Z_for_Zachariah">Joel's pick: "Z for Zachariah Rinna's book pick - "The Windup Girl" by Paolo Bacigalupi: https://en.wikipedia.org/wiki/The_Windup_Girl Worldcon 75 took place in Helsinki this year: http://www.worldcon.fi Kuoriaiskirjat, a cool small Finnish book publisher: https://kuoriaiskirjat.wordpress.com Osuuskumma, another cool small publisher of fine Finnish fiction. Some books translated to English and Spanish: http://osuuskumma.fi/osuuskumma-international/
How does elevator awkwardness in Britain differ from the same in Finland? Joel Willans, author of Very Finnish Problems, asks game studies Ph.D. Aki Järvinen essential questions about migrating to the UK. Co-host Thomas Nybergh is curious about the demoscene and where fake money used inside video games ends up. Contact: [email protected] Produced by Thomas Nybergh / Ink Tank Media Shownotes: Aki on Twitter: https://twitter.com/aquito Elevators and how they impacted culture: https://www.bostonglobe.com/ideas/2014/03/02/how-elevator-transformed-america/b8u17Vx897wUQ8zWMTSvYO/story.html?camp=id Finnish chapter of IGDA, the International Game Developers Association: https://www.igda.fi The Assembly demoparty: https://en.wikipedia.org/wiki/Assembly_(demoparty) Example of a demo: https://youtu.be/v8bg4EixkFk?list=PLJO4AtxKJiFPmigR5m7SSrvT_pu291vFG Journalist Anni Lassila on how cool summers are becoming a privilege: http://www.hs.fi/paakirjoitukset/art-2000005300883.html More: http://veryfinnishproblems.com
What's the weirdest place Finnish president Urho Kekkonen went fishing? Author Joel Willans is joined by maritime historian Aaro Sahari. The two discuss icebreaker ships and their impact on Finnish 20th century industrialization. Aaro explains how conquering nature with year-round open waterways affected Finnish national pride. Contact: [email protected] Produced by Thomas Nybergh / Ink Tank Media Shownotes: Old footage with fearless strolling next to speeding icebreaker: https://www.facebook.com/veryFinnishproblems/videos/671860119621245/ Aaro's academic record: https://orcid.org/0000-0002-5099-8249 Sahari & Matala: Small nation, big ships winter navigation and technological nationalism in a peripheral country, 1878–1978 (paywall): http://dx.doi.org/10.1080/07341512.2017.1343909 Aaro's popularized article on icebreakers (in Finnish): https://journal.fi/tt/article/view/64668 Finnish Funding Agency TEKES makes video campaign with self-mutilating daredevils group Dudesons: https://www.tekes.fi/en/programmes-and-services/campaigns/dudesons/ More: http://veryfinnishproblems.com
Who can name the worst Finnish booze? Helsinki resident Joel Willans reads from his upcoming book "101 Very Finnish Problems", and spills the beans on annoying Finnish alcohol laws. Ink Tank writer Thomas Nybergh chimes in with his hazy understanding of deterministic, genetic explanations of alcoholism. Contact: [email protected] Produced by Thomas Nybergh / Ink Tank Media Shownotes: "101 Very Finnish Problems", the book: https://www.gummerus.fi/fi/kirja/9789512408597/101-very-finnish-problems/ Finnish alcohol related gene mutation: https://www.theguardian.com/science/2015/nov/17/gene-mutation-htr2b-linked-impulsive-behaviour-alcohol
Are Finnish summer cottages bourgeois forced labor camps? Very Finnish Problems creator and Helsinki resident Joel Willans talks summer annoyances with Ink Tank writer Thomas Nybergh. It's revealed that Joel doesn't get to play with the chainsaw and that Thomas hasn't caught a fish in his entire life. Contact: veryfinnis[email protected] Produced by Thomas Nybergh / Ink Tank Media
Just how deadly is a typical winter in Finland? Very Finnish Problems creator and Helsinki resident Joel Willans discusses survival strategies with Ink Tank writer Thomas Nybergh. We learn that Thomas rarely leaves Helsinki and that Joel feels bad about sucking at winter sports. Contact: veryfinnis[email protected] Produced by Thomas Nybergh / Ink Tank Media